A week in Faroe Islands - Day 1 "Viðareiði, Tindhólmur and Drangarnir"
In July I had the incredible opportunity of spending a week in the Faroe Islands. This became almost immediately one of my top three spots in the world and over the next few entries I'll try and explain why and how to get the most out of your visit.
First thing's first: Faroe Islands have a pretty decent public transportation system, but personally I'd still suggest renting a car, tho I have to be honest about the fact that Faroes are becoming more and more popular so booking a car as early as possible is crucial. It is worth it tho! You know all those moody, cloudy photos from Faroe Islands? Yep, they're all a pretty good representation of the weather over the Islands, but also the distances over there are not that big, which means that you can to a location based on the weather forecast that you can check in the morning. So if the forecast says that it'll rain today over Vidareidi, but the skies will be clear above Gasadalur you know where to go that day.
I've got my hands on a beautiful car from Just Drive Fo and this is a great company to hire with. I had some issues on the Islands, namely a car drove into me, and I was very pleasantly surprised at how well the owner, Michael Koba, handled the whole situation. He called me back, drove down to the site, dealt with the people from the other car and told me to not to worry about a thing… and I never had. Everything was sorted straight away. Definitely would recommend.
After landing in the Faroe Islands (which wasn't easy as there was a thick fog milling about and the pilot had to approach the airstrip four times) I went straight to the car rental place, but please do be aware that Just Drive don't have their own designated spot in the airport. You just go to the information desk and pick up your keys, contract and everything else there. While you're there it might be a good idea to look through some brochures and maybe book a trip to Mykines (never got there myself as the weather made me cancel my plans, but I've heard only good things about it) to gather some knowledge about the Islands.
As I didn't have an overnight stay booked for the first night I've decided to go straight from the airport to Viðareiði, a most northern village of the Faroes, where I would spend the next few hours in the car to aim for a sunrise hike and shoot above that picturesque spot and boy did the location deliver!
Hiking up on my first day there, after just few hours of sleep, was a bit of a challenge, but it was more then worth it! The view from the peak above the village is breath-taking, but don't stop until you get to the very top, cause the view looking towards the east from there is just as stunning! Check out this 360 video recorded there.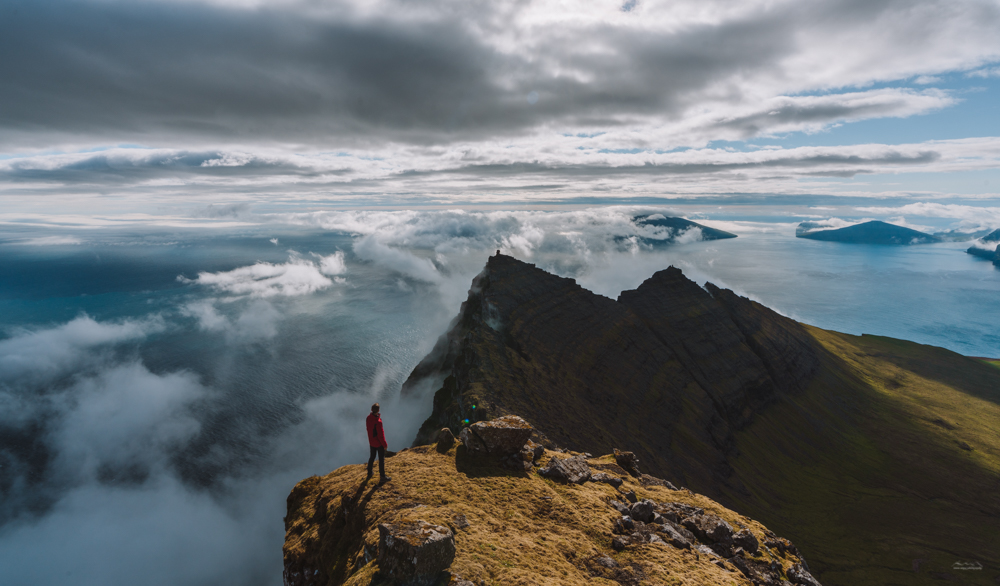 After this incredible sunrise I've made my way back down to the village and decided to spend few more minutes just walking between the houses. This was a very good move as in Viðareiði you'll find a very picturesque white church and some incredible cliffs right in front of it. Not to mention the classic, grass covered houses in the village itself.
After leaving Viðareiði I've started making my way towards a destination that in my head was my number 1! The rocks of Tindhólmur and Drangarnir.
To get to the cliffs next to these amazing formations you have to walk two hours through a private land and that means trespassing. To avoid this, and you should, you can book a tour guide, who will be able to take you there and back for a small fee.
Please do be aware tho that access is only permitted on Wednesdays, Saturdays and Sundays so plan accordingly!
I have to honestly say that after visiting this location I felt a little bit unfulfilled. It's very cool, but I didn't exactly feel the magic that social media is leading you to believe this place has. It's nice, but there are waaaay better locations in Faroes and Viðareiði earlier that day set the bar quite high. I've still spent few hours there taking photos from each and every angle.
As soon as I've finished I had to rush to my car to get to Tórshavn, the capital of the Faroe Islands and the town where I had my overnight stay. One huge word of warning for the Faroe Islands: it is a breeding destination for many birds during Spring so be careful where you're walking. I was attacked by quite a few feathery fellas while on the Islands.
After few hours I made my way to Tórshavn and a lovely AirBNB, photos and link of which you can see below. It was a lovely apartment organised for me by my client, definitely worth booking.
Good thing I got a lot of sleep that night cause the next few days, as per usual, were kinda hectic and full of sunrise and sunset photography.